22 Hilarious Pups That Will Make You Want To Celebrate National Peanut Butter Day
On this National Peanut Butter Day – perhaps the nation's most underrated holiday – we want to propose a toast (wheat, not white) to good old PB, that tasty treat that drives our canines companions nuts. Whether it be an afternoon reward or a sneaky way to get them to take their medicine, it's an excellent source of protein for our pups. Not to mention, paired with a good toy, it's also a lovely way to keep a pooch busy for a few hours!
Here's to you Peanut Butter, and the pups you make happy… especially the ones below!
REMINDER: Although peanut butter is safe and contains lots of pawesome vitamins, only share in small quantities with your pup, and if possible go for the raw, unsalted brands.
1. Peanut Butter keeps him young and corgeous.

2. "Well change my name to Snoopy, I just found my favorite food."
Image via Mother Nature Network
3. "Be a dear and bring me a cuppa. I'm in a sticky spot." 
Gif via Gif Soup
4. That feeling when its sthtuck to the woof of your mouth.
Gif via BuzzFeed
5. "If you leave me alone, this should all go smoothly."
Image via Imagur
6. "Our favorite boozer is the Snack Bar."
Gif via The Wonderous
7. Pup's first taste and he's hooked.
8. "My favorite brand is Sun-Pat-on-the-head."
Image via Blogspot
9. Shiba Pea-nu can't get enough!
10. She could terrier through a whole jar.
11. "As I always say, there's nutten butter than a tasty spoonful." 
Image via Home in Disarray 
12. Treat time is certainly a hot spot.
13. "Thanks mate… but next time wash your hands first!"
Image via Oh Ma Gif
14. "Who you calling chunky?"
Image via Instagram/baggy.bulldogs
15. Cheeky pup can hardly keeps his eyes in his head for just a taste.
16. Chuffed for this Peanut Butty. 
Image via Imgru
17. Puppy's lip-smacking good time is labradorable.
18. "Madame, this food certainly leaves my tongue wagging."
Gif via Senor Gif
19. "If I keep staring, maybe it will return."
Image via Blogspot
20. This Boxer duo is droooooling over the savory snack.
21. "Yomyomyomyom… hey where'd it go?!"
Gif via Senor Gif
22. "Wot? I'm celebrating!"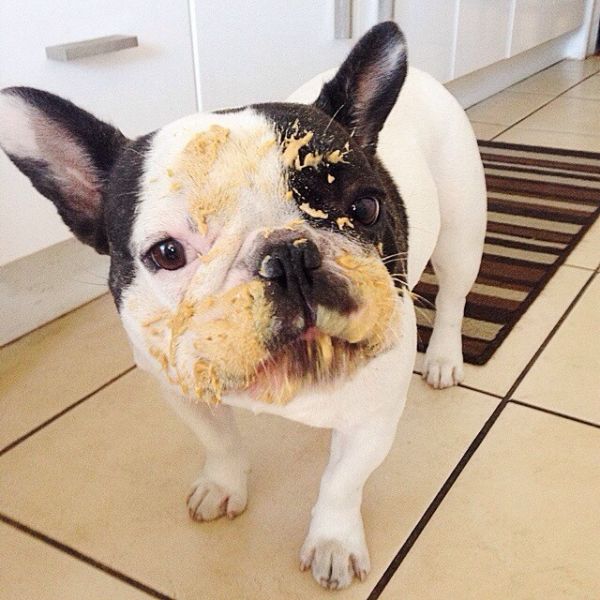 Image via Food Diggity
…Celebrate National Peanut Butter Day by spoiling your dog with this Peanut Butter surprise that will keep the busy all day long.
Featured image via. @roscoe_the_heeler